武汉大学校友论坛
难忘珞珈
湖医87级研究生
湖医79级
湖医88级
寻人购物区
San Antonio hotels on an easy to search map, best internet price.
Dr. Henglin Yan (严恒林) visited Guangzhou

HuYong 贴于2011/04/06 00:19 (武汉大学校友论坛)


April 1, 2011

All Alumni

We are highly pleased to share you with a pierce of exciting news that Dr. Henglin Yan (严恒林) visited Guang Zhou. Dr. Henglin Yan (严恒林) was our 86'graduate of Wuhan University, School of Medicine (used to be called as Hubei Medical University). Our 86' classmates in Guang Zhou got together and had an unforgettable dinner. Enclosed is the photo we took. The persons, listed from left to right, from front to back, are: 吴淑华, 严共全, 毕晓芸, 胡勇, 严恒林, 陈建国. In addition to testing delicious foods in Guang Zhou, the persons participated rewarmed our sweet past, exchanged information of work, family and life values!

During his short-term staying in Guang Zhou, Dr. Henglin Yan also visited Dr. Yong Hu's (胡勇) company located at Guang Zhou Science Park. Dr. Yong Hu's company in Guang Zhou is working on vaccines against bacterial diseases, mainly including streptococcus pneumonia. In addition, Dr. Yong Hu's projects also involve with immunodiagnostic reagents.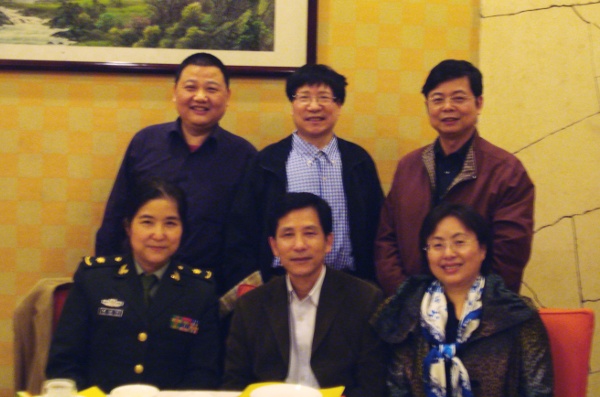 (Dr. Yan visited Guangzhou(左到右)吴淑华, 严共全, 毕晓芸, (后排)胡勇, 严恒林, 陈建国)


After our graduation in 1989, Dr. Henglin Yan got a doctoral degree in Neurosciences. Shortly afterward, he moved to Yale University and started working on immunology. He is currently working as a Chief Scientist at a Pharmaceutical company near Yale University, with a focus of identifying chemical compounds to fight against inflammation, using tools of immunology and molecular biology. Quite a few compounds have been selected for clinical trials. If you are interested in knowing more, you may feel free to contact him via email at: hyan0505 @ gmail . com

Yong Hu (胡勇)
Email: yonghujulia @ gmail . com

〖加跟贴〗 〖校友论坛索引首页〗
---